So far this semester, we have had some fantastic guest speakers in Dr. Freberg's Social Media class, and today was no exception. This morning we had the privilege to have Robert Young, the Vice President of Public Relations for the Kentucky Derby Festival come in and deliver another very interesting presentation. I really enjoyed how he was giving us his perspective on social media and it's uses while showing us facts about it has helped his work with Public Relations for the festival. A lot of the major advantages for social media campaigns that he touched on were ones that have been highlighted by previous speakers as well. For example, the importance of

real time coverage

via Twitter or Facebook. Kind of like how people were tweeting about the power outage at the Super Bowl as it was happening, Robert Young and his team will be doing the same thing this year for all the Kentucky Derby activities. Something I thought very cool (and if you enjoy fashion, you may like this as well!!) is that during this year's fashion show for the race, they will have people tweeting live by the runway all the different fashions as the models walk with designer names, the price for the outfit being worn, as well as where you can find it!! Very handy for those that love Derby fashion and want to find their perfect Derby outfit to show off!! Maybe you're more partial to the airshow the morning of Thunder Over Louisville?? If you're anything like my father and me, this bit of information will appeal to you. Derby reps will be working with the air teams for the pilots and tweeting real time coverage for those on the Waterfront keeping them updated with essentially instant schedule changes.


A second topic Mr. Young touched on was the importance of

knowing your audience

and making sure the

timing and content of your posts are done correctly

!! I love running and have always wanted to run one of the Derby mini marathons but, like so many others, knee injuries prevent me from doing that. However!! If you are one of those that make a point to run the minis every year, Robert talked about how his running audience are different from the people that are only interested in Thunder and what the theme and soundtrack will be like for the firework shows. Maybe you only want to see the Balloon Glow and watch the balloon races?? At first, the Derby team thought it was useful to have several different Facebook pages for each event or interest. This turned out to have negative effects for the PR team. In my mind, it seemed to be a "mistake" that needed to be made. At the very beginning there were 11 Facebook pages for the Derby Festival. As time went on and the events to were starting to begin, in became increasingly difficult to keep up with all the different pages and updates. So how did they decide to fix that?? Have one page on Facebook and one Twitter account for the Derby Festival of course!! In regards to Facebook, Robert said that keeping your posts short and the content on point as well as relevant is absolutely imperative. In his words, simply because Facebook doesn't have a character limit, don't let yourself fall under the illusion that you can tell one long, massive story. In today's society people don't have the attention span to sit and read some long, drawn out Facebook post. Keep in short and simple to be effective!! Pay attention to

analytics

to find out when your page is getting the most traffic and post during those times. For Twitter, they are using separate hashtags for each event. That way, individual that only care about how to book a hotel for the mini marathons can follow that hashtag while those that only care about Thunder and music can follow a specific hashtag for that. I think this is a fantastic idea and will prove to be very effective!!


A final I thought was extremely interesting was how Robert Young and the PR team used social media to keep people following the Derby festival during down time with the Derby Chili campaign in the fall. They were concerned no one would know about it and it would end up falling through the cracks. Not so!! It ended up being a tremendous success because they posted about Kroger giving you a coupon when you buy beef in order to make a chili recipe to enter. There were no advertising costs, beef sales rose up to $1.7 million, and their entry numbers shot up from, I believe it was something like 600 from a previous Derby Burger contest to over 2,000 entries.




If you want more information on the Derby Festival, here are their pages to visit!!


Twitter Facebook Page



Thank you for speaking today Mr. Young!!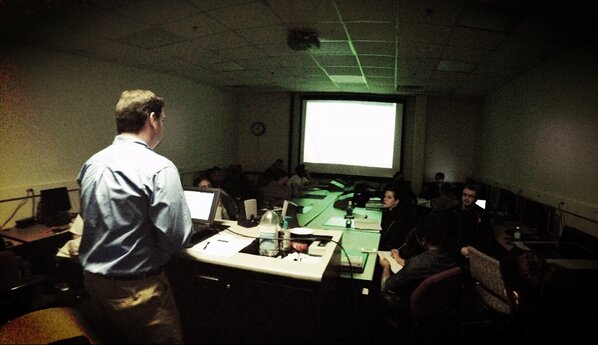 (photo credit: Dr. Karen Freberg)